We would love to have you ask a guest.
Do you want to go back in time? A time before TV? When cooling yourself with sweet tea on your front porch, and relaxing meant you shared some homemade bread or sweet dandelion wine with your neighbor. Where the sun pops up over the mountain landscape and changes the mist in the meadow into bright rays of growth. That's how it is at Jehovah Raah Farm, located in Fines Creek, North Carolina. Along with the bucolic scenery, a 1910 house, called the 'Shepherd's Croft' will take you back in time. Stay for two nights, or a month of mornings to be part of this back in time real farm experience.
In 1990, Dan and Julie Wilson started Jehovah Raah Farm with two sheep. Since then, the farm has grown into a sustainable fiber farm raising Shetland sheep, alpacas, llamas, Scottish Highland cattle, Angora goats, Angora rabbits, honey bees, Cuckoo Maran chickens and Black Spanish turkeys, along with flowers and vegetables.
Have you ever wondered where yarn comes from? How it is made? What you would need to do in order to produce a garment, hat or rug? Come to Jehovah Raah Farm; take a tour, a class or stay at the Shepherd's Croft. Julie loves all aspects of farm life: feeding the animals, cultivating the gardens, and sharing all about fiber. Julie teaches a variety of artistic avenues using her animal's fiber as the base. Her deepest passion is to share her love of creating beauty with the use of fiber; whether by spinning it into yarn, or teaching someone how to make wall art or a woven rug.
Come be RESTORED.
Imagine it's 1910, and your father has just finished (can you really be finished with a house you are actually building) and you and your siblings can move out of your grandparents home, built around 1890, and just a hop , skip, and a jump to your own house down the road. You are lucky enough to have a bathroom, and lots of windows in each room, but your mom is still having to use the 'canning' house outside because a basement was not built. However, she doesn't have to walk very far for the butter, milk, and eggs, because your dad built a spring box in the little room off the kitchen. The creek isn't very far, so refreshing swims can be experienced in the heat of August summers.
Now, take yourself to the year 2019. The previous scenario is to tell you that the Shepherd's Croft doesn't have air conditioning, or a hot tub or even a dishwasher. Items you might find in other vacation rentals. What the Shepherd's Croft does offer is the farm life experience to recharge your soul to restore your energies and just BE.
Some info to know about:There are many antiques in the Shepherd's Croft, many of which are for sale. See notebook for prices.
The 1910 Monitor Refrigerator does not have a large freezer at all. If you wish to store frozen items, we have a large freezer and we would be glad to hold anything for you.
There is not a dishwasher in the Shepherd's Croft, but there are hand knitted dishcloths and locally made dish soap to soften your hands while they clean the dishes to bring you back to a slower time.
The bathtub is a claw foot tub with an antique porcelain shower head and muslin shower curtain, hand sewn to replicate what the woman of the house would have done back in 1910 if she needed something….she made it.
The bed is an tall antique wooden head and footboard with lush bedding and warm comforter with a hand sewn cover with a yellow print of sheep in the meadow.
The front door key was re-purposed from an old hotel, hence the bling! It automatically stays lock.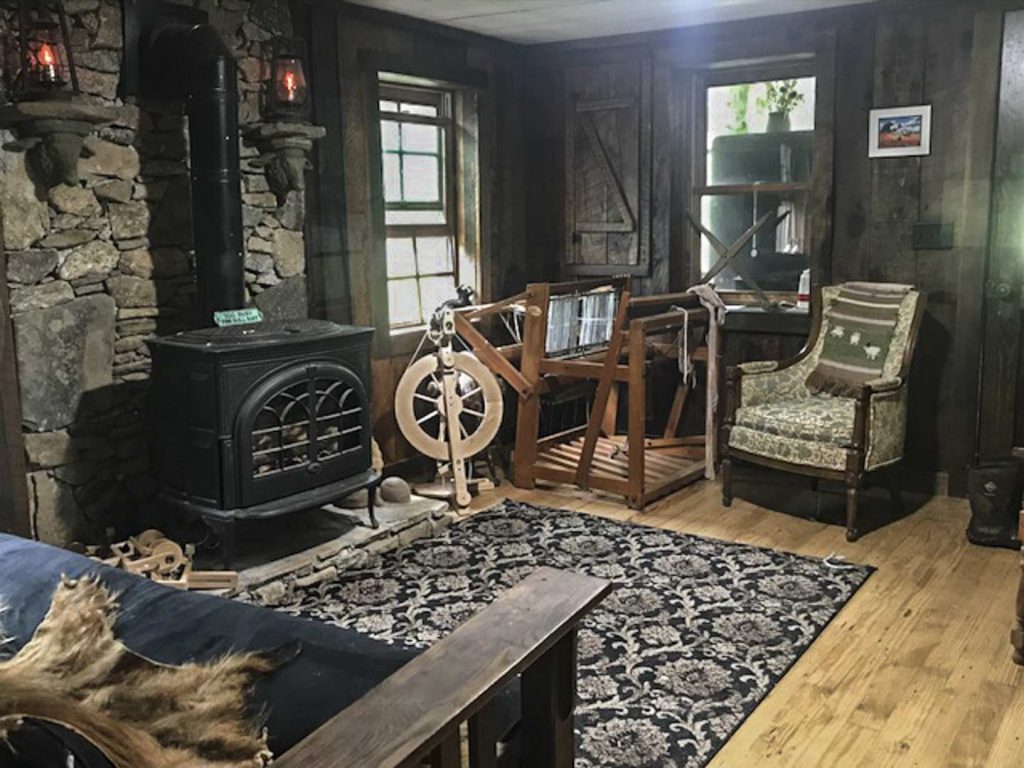 CALL BEFORE BOOKING TO AVOID BOOKING CONFLICTS
Nightly charge: 125.00 plus deposit and county occupancy tax
Because different folks have different visions, we offer three options for your stay of the Shepherd's Croft.
Option #1: The Broody Hen. 
Did you know that a hen sitting on a clutch of eggs will not leave her nest for about 28 days? So, if you would like to have peace and quiet at the Shepherd's Croft, (I don't see you and you don't see me), pick the Broody Hen option!
Option #2: The Barn Owl. 
Did you know that an owl  perches on a high tree or rafter in a barn  and watches, turning his head as needed, up to 270 degrees. Well, in this option, you would just 'watch' me do all the work that farming demands.
Option #3: The Clydesdale
Clydesdale horses work hard and with this option, you can help me with all the chores that you care to do!