Lendrum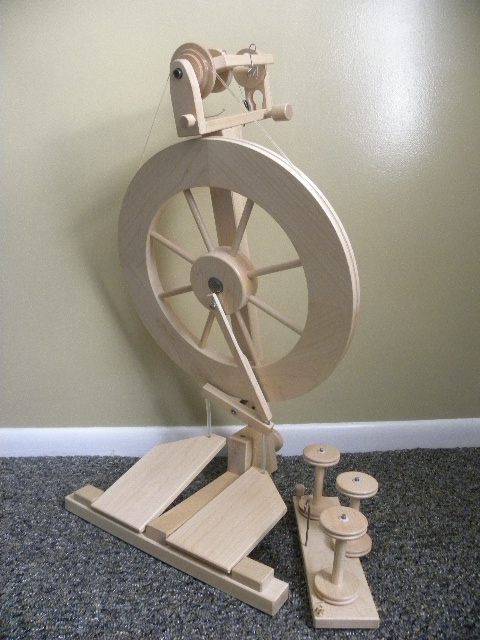 Jehovah Raah Farm has been a dealer of Lendrum Wheels since 1996. Gordon Lendrum of Odessa, Ontario, is the designer and manufacturer of this sturdy, portable and versatile spinning wheel. The Lendrum spinning wheel has a unique slant design which enables more comfort to the spinner, whether left or right, because of its orifice in the center. The Lendrum has three models of wheels, single treadle, double treadle, and Saxony wheel. This wheel has a stretchy drive band and scotch tension to brake the bobbin. The Lendrum folds flat to enable better portability and only weighs 14 pounds. The Mother of All is the only adjustment to an otherwise assembled wheel. The sensitivity of the scotch tension enables a spinner to spin any kind of yarn: thick or thin, short draw or long draw, soft or firm twist.
The Lendrum comes with a regular flyer with a ratio of 6,8,10:1. Fast flyer has a ration of 12,15, and 17:1. The plying flyer has ratios of 5,7, and 9:1. The fast and plying flyers are included in the complete wheel. Another flyer option is the Super Fast Flyer. This flyer has ratios of 26, 30, 36, and 44:1. The Super Fast Bobbin holds about 2 ounces of yarn but spinning very fine yarn enables the spinner to spin many hours with this bobbin. The super fast flyer uses the same drive band as the regular flyer but because the whorls are small, the spinner needs to raise the Mother of All. Lendrum also offers the quill head which has a six inch metal spindle and three whorls of 6, 25, and 37:1.
Little maintenance is needed on the Lendrum. If you would like to oil the wheel, you may oil both ends of the flyer. As with any new wheel, the drive band could stay on the flyer to "break in" the new wheel. However, there is an old tale that speaks of fairies in the night. If you don't release your drive band from your wheel after you are done spinning for the day, little fairies will come in the silence of the night and unspin your spinning. So, beware, release the tension of the band after you break in the wheel.